7 High-Paying Services to Offer Bloggers as a Virtual Assistant
Have you ever thought about becoming a virtual assistant? Maybe you've seen ads or are wondering about services a virtual assistant offers. What do they offer?
Services to offer as a VA
There are so many ways you can offer your services to entrepreneurs as a virtual assistant. You could help with social media management, blog writing and editing, email response time, or even simple data entry tasks.
The purpose of this post is to give you some ideas to get started, not to walk you through the entire process of becoming a VA or offering these services in your business. Though, becoming a VA is one of the businesses you can start for less than $150!
If you haven't taken a course on how to become a virtual assistant yet, I highly recommend this one. I used to teach a similar course myself, and this one is leaps and bounds better than the others I've taken.
Copywriting | Writing Blog Posts & Emails
Copywriting is "the act or occupation of writing text for the purpose of advertising or other forms of marketing". Though I've combined copywriting and blog post writing, the skills needed here are not the same.
I'm great at writing blog posts, not so much great at copywriting. I use tools to help me write better sales copy, so I can be valuable to my clients in several ways.
Slow writer? Running into writer's block?
Not sure how to start that article? Conclusions aren't your strong suit? Can't figure out how to get that article to 1,000 words? Use Jarvis!
Jarvis is an Artificial Intelligence copywriter. I actually use AI to help me write almost every blog post now. AI knows how to write for Google, so I don't have to worry about rewriting everything it spits out.
I've easily cut my writing time in half by adding Jarvis to my team. This tool (which I use for sales copy all the time) is well worth the investment, especially when you are getting paid to write for others. Read my Jarvis guide if you're interested in using this tool. It's changed my business in SUCH awesome ways!
Bookkeeping and Accounting as a Freelancer
I know absolutely nothing about bookkeeping and accounting, but I do know we hired a VA to do our bookkeeping and to help with taxes. 🙂
If bookkeeping, tax preparation, etc. is in your wheelhouse already, why not monetize it as a virtual assistant?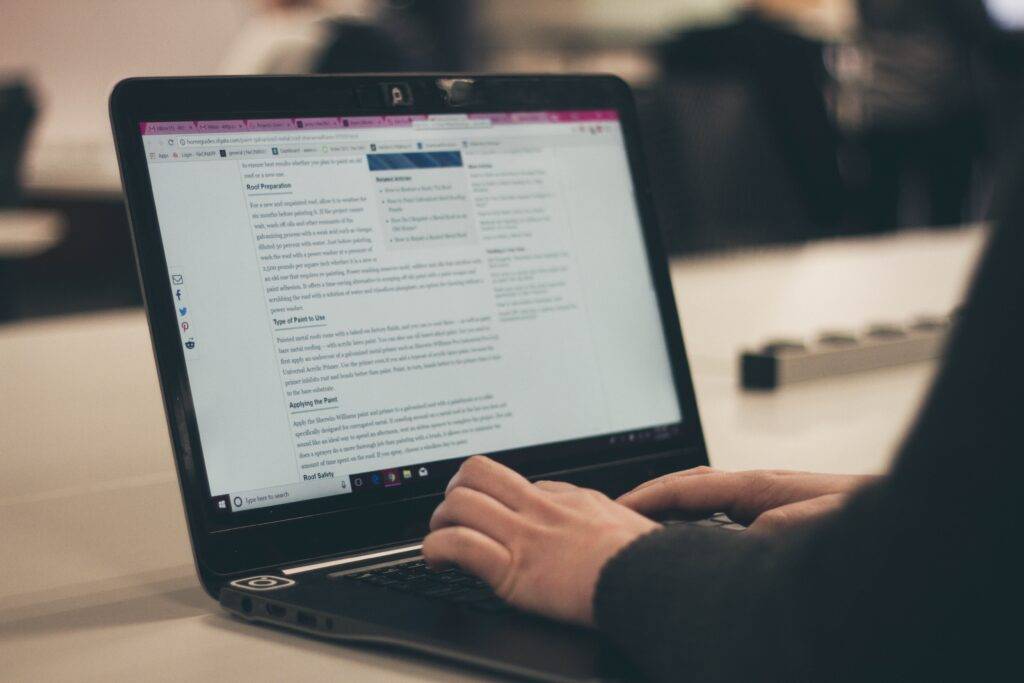 Email Set Up & Management | Email Funnels
The subject of email covers a dozen different jobs you could land as a virtual assistant. Some bloggers absolutely hate email. That's good news for you, because they'll pay you to manage theirs!
Tasks for an email manager vary greatly, but can include:
email set up (especially for domain emails)
email newsletter set up (content creation)
email funnel set up & management
email course creation
email management (prioritizing emails, responding, etc.)
and more!
Social Media Set Up & Management
You can become an expert on a specific platform, such as TikTok or Pinterest, or you can dabble in all things social media and be a social media manager.
Whichever you choose, you'll need to stay up to date on the latest changes with social media algorithms, and make sure you're tracking results for your clients.
Graphic Design
Even if you don't have Photoshop experience, you can piece together designs in Canva with not much of a learning curve AT ALL.
One job I often hire out for is mockup design. Every time I create a digital product, whether it's PLR or bookmarks or something in between, I need a mockup so it will sell.
Here's a quick tutorial on how to make mockups in Canva:
Wow… so easy! Can you do that? I bet you can. You could even design mockups, put them in a bundle, and sell them as templates over and over again. This is something I teach in my Etsy course.
Zoom Co-Hosting / Moderation
I recently attended a summit via zoom and the host had two moderators/co-hosts helping her out. This ensured the meeting ran smoothly, start to finish. Zoom moderators get paid for their time!
This is a pretty niche job, but those who host Zoom meetings, summits, and classes often need a moderator. This job could pay by the hour or could be part of a bigger job, like if you're someone's full-time assistant.
Project Management
Are you great with organization? Do you feel right at home when you're delegating tasks? You may be the perfect project manager.
I have a full-time assistant who serves as my project manager, but we are both drowning in work! So, I'm on the hunt for a new PM now and I've found that there aren't too many out there advertising in the Facebook groups.
This means minimal competition, and you can charge more as your skillset gets honed in.
Project managers get paid good money, so if you want to attract those high-paying clients, you need a website. If you've never set a blog or website up before, I highly recommend self-hosted WordPress through this host.
While this is an investment, you can get a domain and hosting for less than $15 per month. Just one client a year could easily cover that cost!
Feeling clueless? Check out Project24. They walk you through the steps to getting it all set up AND making money!
Be the ________ Expert
Bonus, #8: Be the expert! Fill in the blank with basically any task, skillset, or program:
Adobe Expert
ConvertKit Expert
Canva Expert
Active Campaign Expert
Affiliate Marketing Expert
The list goes on and on (and on!).
Want to be an SEO expert? Start by reading up on SEO, grabbing a great keyword tool, and practicing. Whether it's with your own blog or for friends for free, to become an expert you need experience.
If you don't feel like an expert at anything right now, guess what? YouTube is free, SkillShare is super affordable (grab a free trial and binge watch all the things), and you can become an expert on almost anything online!
Put some work into becoming an expert on your very niche topic. Then, you can expand.
Where to find jobs as a virtual assistant
Looking to land your next gig but aren't sure where to look? I created this short guide (COMING JUNE 1 2021) to help you get started. There are tons of scams and spam out there, so be careful where you apply for jobs.
If this post helped you, inspired you, or heck, even if you read this far… please take a moment to choose one of the pins below and PIN IT on Pinterest!